Growth of Centers
Despite challenges at diagnostic imaging centers like rising inflation, shrinking reimbursements, increasing competition, and decreasing employee retention, industry revenues have grown at 1.7% per year over the last three years. And as this graph, from our soon to be released Kentley Insights benchmarking report, shows the forecasted growth continuing to climb into 2026.
Interested in seeing where you stack up with your peers within U.S. diagnostic imaging centers?
Register to download our report (a $295 value).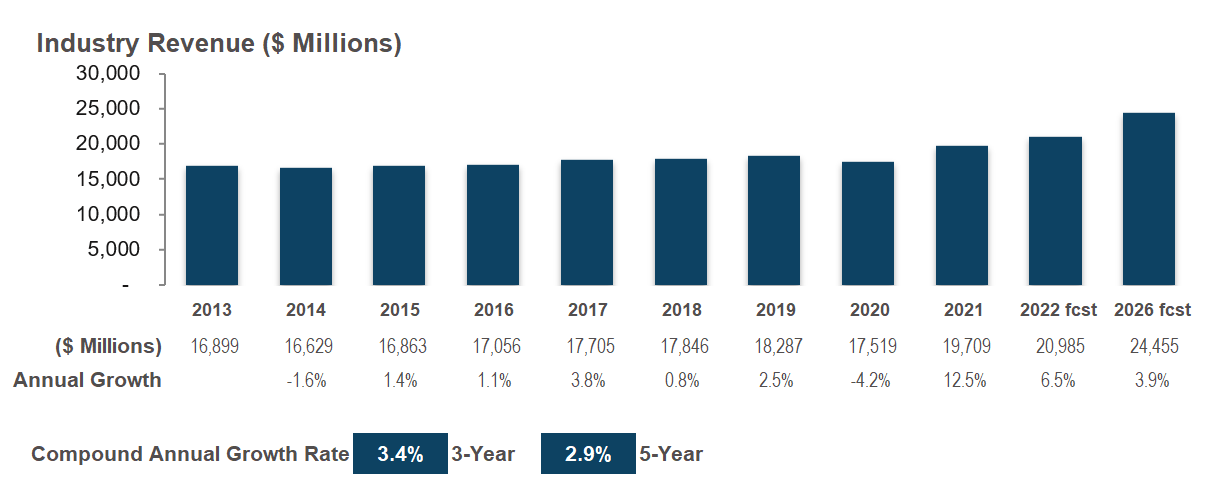 Though growth is positive, especially with the pandemic in the past three years, the annual growth rate is lagging and ranking in the bottom 40% of service industries. And while practices revenues are seeing meager increases (if any), expenses over the last three years are increasing at more than double the rate (3.8%). This fact is perhaps what's most alarming to operations managers and leadership teams at imaging practices. So, how do you close the revenue versus rising operating costs gap?
Strategies for Increasing Diagnostic Imaging Center Revenues
While there are a few strategies for increasing revenues (like price increases), two of the most effective strategies in winning the battle of revenue versus rising operating costs are:
reducing

patient no-shows

and

increasing

physician referral

volume.
Reduce Patient No-Shows
Patient no-shows are costly. (Find out just how costly they can be here with our patient no-show cost calculator.) Patient engagement solutions help radiology practices achieve better operational efficiency, encouraging patients to take ownership of their care. This includes strategies for self-scheduling and automated confirmations that help reduce the number of patient no-shows. And for those patients that do cancel, patient engagement solutions help ensure these cancellations are made in advance, giving practices enough time to fill the slot with another patient. Vastly reducing the number of weekly missed revenue opportunities.
Increase Physician Referral Volume
Beyond recouping missed revenue from patient no-shows, increasing physician referral volume is perhaps the single most effective way to increase diagnostic imaging center revenue. The equation is simple; more patients = more revenue, and your referral network must be strong to do so. With a physician referral CRM, you can use real-time data to track, manage, and grow your referral volume.
Decrease Expenses
While increases in revenues are vital to practice profitability, lowering costs is vital to practice survival. Here are a few key strategies for decreasing expenses:
Lower Employee Overhead
Employee overhead is at the top of your operating expenses list, representing 51% of operating costs for diagnostic imaging centers (Kentley Insights, April 2022). By optimizing and automating administrative workflows, practices can reduce the costly manual time required to complete critical tasks like scheduling, registration, and eligibility verification. Your practice can reduce the amount of support needed to schedule, reschedule, and confirm patient appointments through automated patient engagement solutions that integrate into your scheduling software or radiology information system.
Minimize Office Expenses
Employees print around 10,000 or $725 worth of pages each year. With prices of office supplies like paper increasing due to supply chain constraints, materials shortages, and inflation, digitizing your practice can help your practice save on supplies costs, storage costs, and subsequent labor costs. Streamlining intake forms and other core paperwork needs also allows your staff to spend less time on cumbersome paper-based workflows and more time on patient care.
Looking to learn more about the state of the industry for diagnostic imaging centers? Register below to download our complimentary market insights report (a $295 value).