Optimizing Every Stage of The Modern Imaging Center Patient Journey
The demand for healthcare services continues to rise.
From the return of care deferred during the pandemic to an aging baby boomer population with greater demands for imaging services, the demand for quality care, especially with imaging appointments, is on an upward trend. Are you prepared to take advantage of this trend at your practice?
To be truly successful, imaging center executives and practice managers must optimize every stage of the patient journey, from referring physician and appointment scheduling to review and follow-up. By seamlessly integrating and optimizing all stages of the patient journey, you will make it easier on your staff and referring physicians to work with you.
Key Stages of The Modern Patient Journey:
While there are many touchpoints within the modern patient journey, these stages are critical to your diagnostic imaging center's financial health and reputation. Are you optimizing each stage at your practice?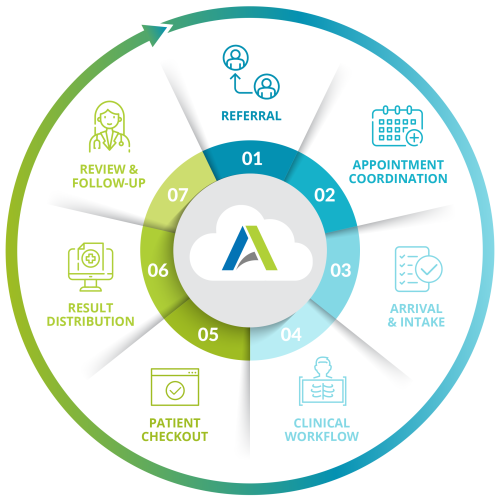 Tell us about your Patient's Journey by completing the survey below. We will present the anonymous results next week.
Physician Referral
The first stage of the patient journey begins with the physician's referral to your imaging center. Physician referrals are vital to the success of your imaging center as almost all appointment types require a physician referral.
The focus for imaging centers is two-fold. First, imaging centers must build and maintain strategic relationships with referring physicians for continuous appointment volume. Second, once those physicians make the referral, imaging centers must ensure patients can easily and immediately schedule appointments. Closing the gap between physician referral and ease of appointment scheduling is vital to profitability and healthcare outcomes. One study indicated that less than 35% of scheduling attempts resulted in a completed appointment.
Appointment Coordination
Patients want options when it comes to appointment scheduling. In fact, one NRC Healthcare Consumers Trend report found that 80% of patients would switch providers for more convenience.
By empowering patients to self-schedule, practices can benefit from:
Reduced no-show rates
Reduced waiting time
Reduced staff labor and operational costs
Improved patient satisfaction
Improved healthcare outcomes
Interested in seeing an Industry Benchmarking report on U.S. diagnostic imaging centers?
Register to download our report from Kentley Insights (a $295 value).
Plus, one study found that close to 30% of self-scheduled appointments were made outside of business hours. Convenience creates more appointments. When practice managers streamline and expand appointment options to include self-scheduling and automated confirmations, they'll see higher completed appointment volumes.
Arrival and Intake
First impressions are everything, and your arrival and intake experience are no exception. Practices must collect key data like demographics, insurance information, medical history, and patient consent before beginning an examination. Often, this process is cumbersome for patients and practice staff.
Reducing time spent on manual paperwork benefits both the practice and the patient. When patients fill out key paperwork prior to entering the office, they spend less time in the waiting room while the front office spends less time printing, sharing, and filing, papers.
Clinical Workflow
A few stages into the patient journey, and we finally get to the point in the wheel that the patient came to your practice for; the procedure/exam/test. During this phase, the technologist performs the imaging procedure, takes any necessary notes, and sends the images to the radiologist. The radiologist then dictates their study from their worklist.
Optimizing and digitizing this workflow is key to quick results delivery.
Patient Checkout
Once the procedure (MRI, X-Ray, Mammogram, CT Scan, etc.) is complete, the patient is ready to check out. Offering convenient payment options at this point can dramatically reduce your unpaid backlog.
This is also the ideal time to get a read on patient satisfaction. Is your patient happy with their experience at your practice? Now is the time to ask, so you can avoid any public/online reviews that may negatively impact your reputation and, ultimately, patient volume.
Review and Follow-Up
Finally, after the patient checks out, the journey isn't quite over just yet. The referring physician and/or patient must be able to access the results and images through a portal. Follow-up recommendations are then provided by the physician based on their interpretation of the findings. Sometimes further testing may be ordered, and additional referrals are needed, cycling back up to the first stage of the patient journey.
Enhancing All Stages of the Imaging Center Patient Journey
The patient journey is a cyclical one, and to stay competitive and profitable, diagnostic imaging centers must be optimizing it at every stage. Stay tuned for our multi-part blog post where we explore each stage of the patient journey and the type of solutions you need to maximize the patient experience while enhancing care coordination and your practice's bottom line.