Aventura, FL – May 24, 2021
AbbaDox has been awarded a Top Workplaces 2021 honor by The Sun Sentinel. The list is based solely on employee feedback gathered through a third-party survey administered by employee engagement technology partner Energage, LLC. The anonymous survey uniquely measures 15 culture drivers that are critical to the success of any organization: including alignment, execution, and connection, just to name a few.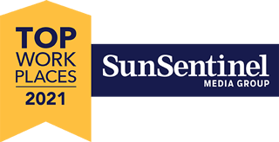 "During this very challenging time, Top Workplaces has proven to be a beacon of light for organizations, as well as a sign of resiliency and strong business performance," said Eric Rubino, Energage CEO. "When you give your employees a voice, you come together to navigate challenges and shape your path forward. Top Workplaces draw on real-time insights into what works best for their organization, so they can make informed decisions that have a positive impact on their people and their business."
AbbaDox is in the midst of celebrating its 18-year anniversary. Receiving the notifications about this award has been the icing on the cake. AbbaDox was named a Top 10 Workplace in the Small Business Category and also received a Specialty Award for New Ideas.
"We feel truly honored to be awarded as a 2021 South Florida Top Workplace," said AbbaDox CEO Yaniv Dagan.
"Since our inception in 2003, our employees have always been our greatest asset and the core of AbbaDox's DNA. Despite the external challenges presented to all of us over the past year, not a day went by where I was not blown away by our passionate and resilient team of unstoppable individuals. Here at AbbaDox, it's about the heart count, not the headcount. This award brings exciting validation to our team, and we will wear this badge of honor very proudly!"
About AbbaDox
AbbaDox is a software-as-a-service company and a leader in radiology information management services. AbbaDox and its suite of mission-critical applications allow radiology organizations to adopt new technologies and transform their traditional on-premise IT infrastructure into a modern, scalable, and secure radiology information system.
With its innovative solutions, AbbaDox improves operational workflows, enhances key stages of patient care delivery and coordination, and provides powerful business and analytics tools. AbbaDox offers a complete enterprise solution for imaging practices and radiology departments through seamless integration and interoperability with best-in-class vendors that offer speech recognition, image viewing, billing, and patient transportation. To learn more, visit www.abbadox.com or follow AbbaDox on social media.
About Energage
Making the world a better place to work together.™
Energage is a purpose-driven company that helps organizations turn employee feedback into useful business intelligence and credible employer recognition through Top Workplaces. Built on 14 years of culture research and the results from 23 million employees surveyed across more than 70,000 organizations, Energage delivers the most accurate competitive benchmark available. With access to a unique combination of patented analytic tools and expert guidance, Energage customers lead the competition with an engaged workforce and an opportunity to gain recognition for their people-first approach to culture. For more information or to nominate your organization, visit energage.com or topworkplaces.com.
AVENTURA, FL (April 16, 2021) – The AbbaDox Team is excited to announce that Ryan Van Beek has joined AbbaDox as Director of Imaging and Teleradiology Services.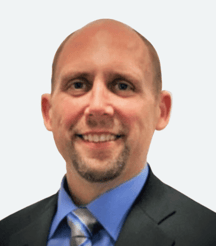 Ryan brings more than 15 years of experience transforming healthcare operations and leveraging technology strategies that drive scalable growth and profitability. He is a consummate professional that is well-versed across many healthcare verticals including imaging, radiology, and teleradiology services. He has served in a variety of Director of Technology and Chief Information Officer positions throughout his career, allowing him to improve patient outcomes at single-physician groups, community-based hospitals, special surgery centers, and large-scale national organizations along the way.
As the Director of Imaging and Teleradiology Services at AbbaDox, Ryan will be responsible for aligning cloud-based and hybrid technology solutions to solve imaging and distributed radiology pain points and streamline operational efficiencies. He will report to AbbaDox's CEO Yaniv Dagan and will serve as a trusted adviser for AbbaDox clients and senior leadership internally.
Ryan fits right in with AbbaDox's customer-first culture and strong commitment to continuous innovation. His unwavering passion for the industry and unmatched attention to detail will be tremendous assets in continuing the explosive growth AbbaDox has experienced over the past few years.
"Now that we have expanded our solutions into the Teleradiology space, we couldn't be more excited to welcome Ryan to the team in this newly created role. His depth of knowledge, respected reputation, and steadfast belief in the power of cloud-based optimization will help expand our reach within the market and enrich our team all while remaining focused on the personalized level of customer service AbbaDox is known for. We are lucky to have him on board," said AbbaDox CEO, Yaniv Dagan.
When he's not cloud computing and improving distributed teleradiology services for clients, you can find Ryan spending time with his daughters or perfecting new gravity tricks with his yo-yo.
"I am excited to work with an amazing team of like-minded intellectuals who are pragmatic problem solvers, driven to ensure 100% client satisfaction. When I was humbly asked to join this team, as we say in NYC, it was an offer I couldn't refuse," said Ryan.
For more information on AbbaDox's industry-leading solutions, visit www.abbadox.com.
About IDS AbbaDox
IDS is a cloud-computing technology firm and a leader in radiology information management services. AbbaDox Cloud and its suite of mission-critical software applications enable radiology and healthcare organizations to adopt new technologies and transform their traditional on-premise IT infrastructure into a modern and secure radiology information system that is scalable.
With its innovative solutions, IDS optimizes clinical and administrative processes, as well as documentation during key stages of patient care delivery, while coordinating and complementing them with powerful business analytics. To learn more, visit www.abbadox.com or follow AbbaDox on social media.