Aventura, Florida, July 20, 2023 - AbbaDox has been awarded a Top Workplaces 2023 honor by South Florida's Top Workplaces. The list is based solely on employee feedback gathered through a third-party survey administered by employee engagement technology partner Energage LLC. The confidential survey uniquely measures 15 culture drivers that are critical to the success of any organization: including alignment, execution, and connection, just to name a few.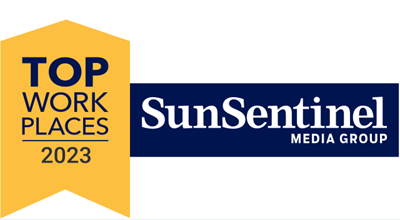 "Earning a Top Workplaces award is a badge of honor for companies, especially because it comes authentically from their employees," said Eric Rubino, Energage CEO. "That's something to be proud of. In today's market, leaders must ensure they're allowing employees to have a voice and be heard. That's paramount. Top Workplaces do this, and it pays dividends."
Celebrating its 20th anniversary, AbbaDox's receipt of this award is a testament to its continued commitment to creating a positive and innovative workplace. The company was also recognized with a Specialty Award for New Ideas, further highlighting its dedication to innovation and growth.

"We are incredibly honored to receive the 2023 South Florida Top Workplace award," said AbbaDox CEO Yaniv Dagan. "Since our founding in 2003, our employees have been the heart of AbbaDox. Despite the challenges we've faced, our team's passion and resilience have never wavered. This award is a validation of our team's hard work, and we wear this badge of honor with pride."
About AbbaDox:
AbbaDox is a healthcare software provider specializing in radiology workflow solutions. AbbaDox Cloud and its mission-critical software applications empower healthcare organizations to transform their IT operations into real-time health systems by replacing on-premise infrastructure with cloud-based solutions' agility, flexibility, and resource efficiency. With its innovative solutions, AbbaDox optimizes operational and clinical workflows during key stages of patient care delivery and complements them with powerful business and analytics tools. For more information about AbbaDox, visit www.abbadox.com.
ABOUT ENERGAGE
Making the world a better place to work together.TM
Energage is a purpose-driven company that helps organizations turn employee feedback into useful business intelligence and credible employer recognition through Top Workplaces. Built on 16 years of culture research and the results from 27 million employees surveyed across more than 70,000 organizations,  Energage delivers the most accurate competitive benchmark available. With access to a unique combination of patented analytic tools and expert guidance, Energage customers lead the competition with an engaged workforce and an opportunity to gain recognition for their people-first approach to culture. For more information or to nominate your organization, visit energage.com or topworkplaces.com.